The Schilthorn!
Written by Jack on April 14, 2014
63° F

Today's planned excursion seemed pretty ambitious on paper, and to be honest, a little bit dangerous in our heads. It was time to conquer the Schilthorn.

The Schilthorn piz Gloria is a lookout station, skiing destination, and revolving restaurant residing at 9,744 ft in the center of the Swiss Alps, perched precariously at the very top of the Schilthorn mountain peak. It was the setting for the James Bond movie, In Her Majesty's Service, where in the end of the sequence they blow the whole darn place up.

"On top of the world" moments can never be captured in a photograph, only experienced. If you've had one, you would know exactly what I mean. The real adventure and story is in the journey, and that's where I'll focus. It would go without saying that being at the top (spoiler alert) was the single most amazing view I've ever seen in my life. It was incomprehensible, and frankly impossible to imagine that other peaks like Mt. Everest are 3 times higher. It felt like we could see the entire world, and it's not even the tallest peak in the Alps. It is, however, the tallest peak little children are allowed up, due to thin air and other travel risks.

The only way up is via a series of cable cars, each more vertical than the last. We started right at the top of Lauterbrunnen, buying the round trip tickets (roughly $175 for 2 adults) and hopping on the next cable car to Grütschalp with 3 minutes to spare. Smooth as can be. We had tried to explain to Evan what cable cars were, but it was clear he had absolutely no frame of reference. "So it's a car we can drive while holding ropes? A train that we sit on rope chairs?" It was cute, but futile. He would just have to learn first hand.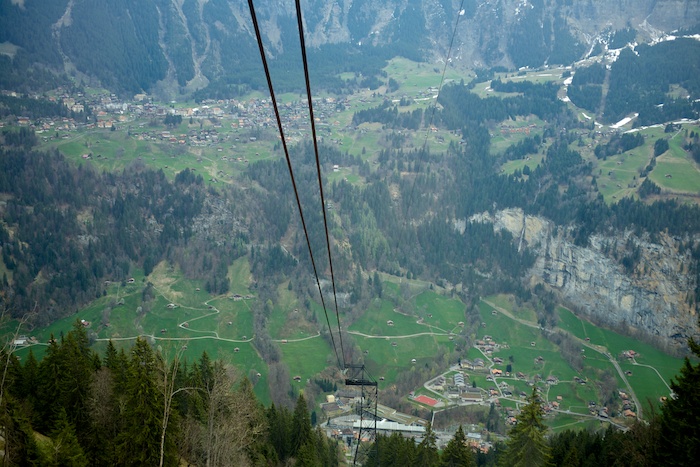 From there, a short mountain train ride to the town of Mürren (via Winteregg), which we absolutely loved. Beautiful vistas of the valley before, lots of restaurants and a few shops, and it was quiet. Much like Lauterbrunnen, but several thousand feet higher. Murren sits at 5,413 ft above sea level. We took our time, stopping for a picnic lunch and a few photos.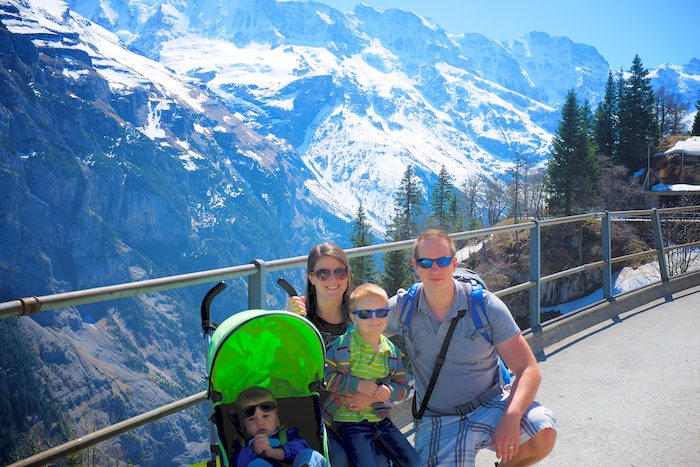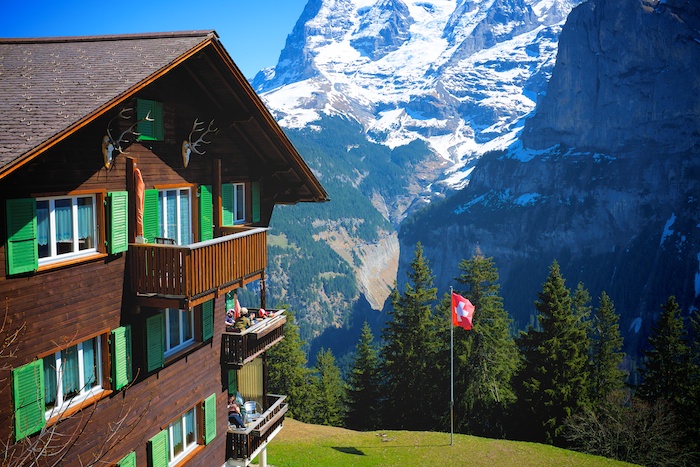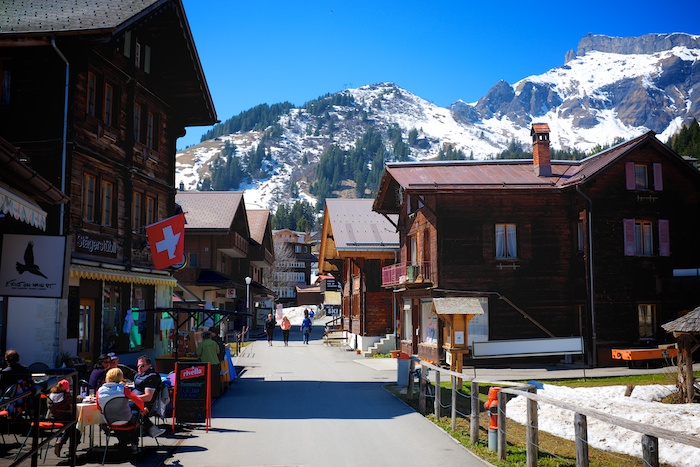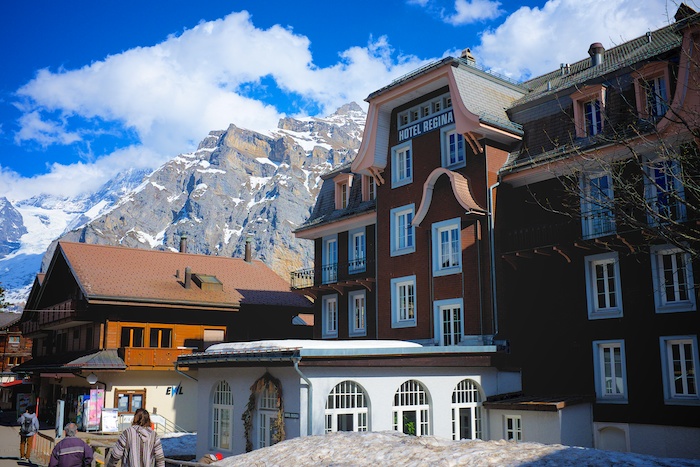 On the west end of Mürren is the Schilthornbahn, the gondola route to the peak. We made the next car right as they started to board. They really squeeze the people on these things. In general, each cable car right included the 4 of us (with a stroller/buggy/pram, whatever you call it in your country), 2 or 3 locals, 30 asian tourists, and a dozen or more skiers heading up for the slopes. I wasn't able to snap too many photos unless I wanted permanently sacrifice my elbow room.
The first gondola from Mürren brought us up to Birg at 8,783 ft. Our ears kept popping. We've gone up over a mile in altitude in no time at all. A lot skiers were residing here, using the gondola as their ski lift. If we thought these people were a little crazy, we were in for a shock when we reached the peak.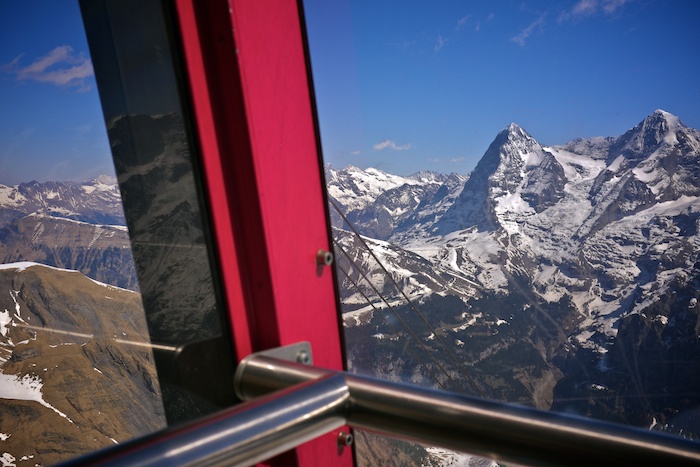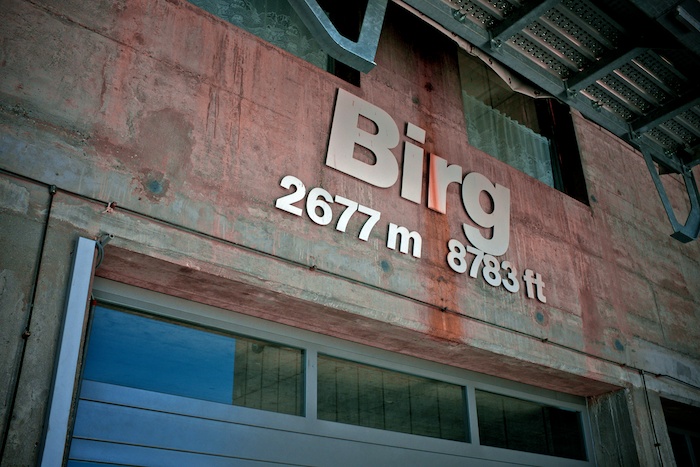 We switched over to the final gondola to the peak. It was significantly colder up here and it's at this point in the story where I realized I forgot my jacket. And I was wearing shorts. But I'm a guy, and I sucked it up and was fine.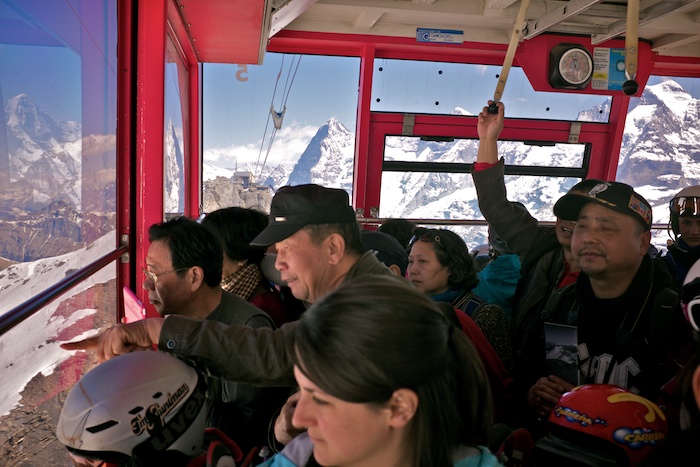 Now I need to comment on the Swiss engineering. The gondola is such a simple concept and they've been in use here for 50 or more years. Yet, as I stare both up and down the line, I can't help but wonder how they continue to work, how they made such long cables, and oh my God we're probably going to die because it's going to snap. Turns out, there have only ever been 7 gondola accidents in the history of the world, 2 of which were people being stupid and fell out, and only 2 involving any fatalities at all. So the gondola is, statistically speaking, an extremely safe way to travel.
As we approached the station, we could look down on what I would consider to be absolutely insane skiers. The slopes were wildly steep, carved against the mountain, and really narrow. There were children doing these slopes. Children! Must not have even been 6 years old yet. I couldn't believe it. But hey, it's Europe.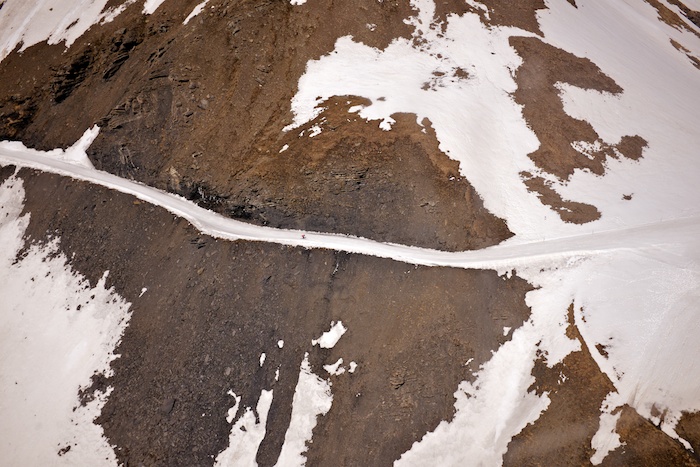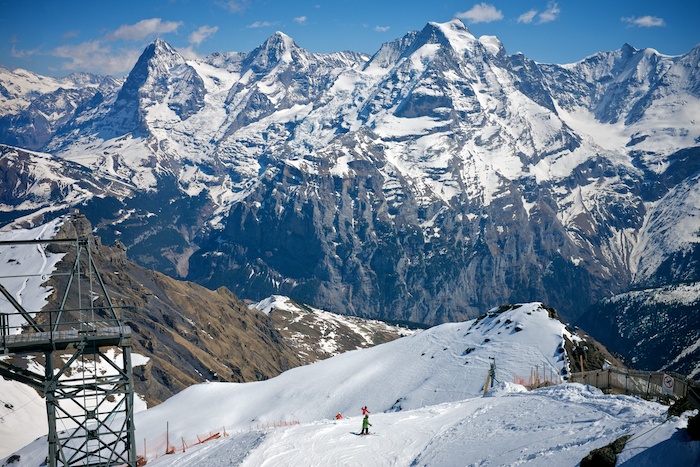 The schilthorn piz Gloria awaited. We could see it approaching, and the gondola started playing the James Bond theme song. I gotta hand it to them, it was already in my head, and I didn't mind the slightly cheesy aspect to it. It was fitting. This was the place where 007 almost single handedly battles a piles of enemies and then escapes the SPECTRE agents on skis. Such a famous Bond moment, and I could see it, right in front of me.

The weather at the top was 32°F/0°C, but inside was just fine. Time to enjoy the view, the spoils of our journey! We were amazed at how actually kid friendly the entire trip was. Liam was able to stay in the stroller the entire time, and while we may have felt nervous about the heights, it was just a mental barrier to overcome.
We headed up to the restaurant. It has a 360° view and slowly rotates (one complete revolution every 50 minutes or so). Desert, coffee, and relaxation. The sky was perfectly clear and just sat in complete awe as we looked out over the Alps, stretching as far as we could see in every direction. We took our time and enjoyed our food, on 007 branded plates and cups no less.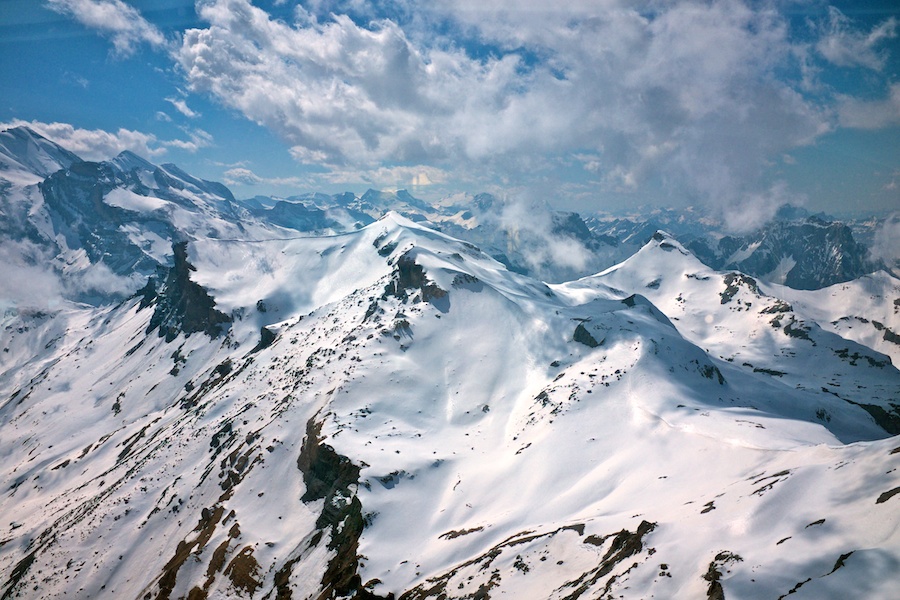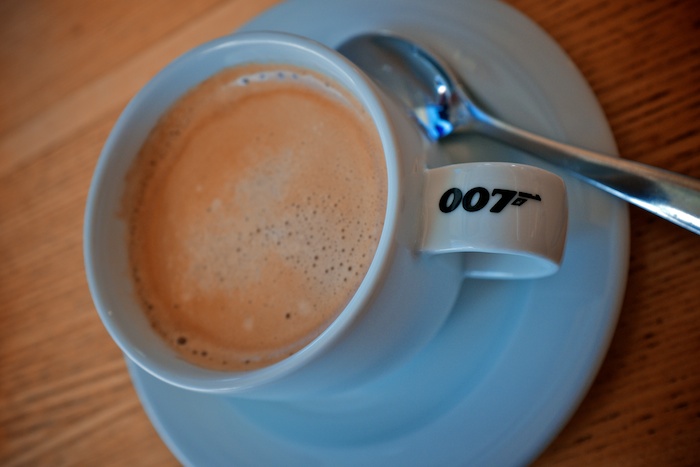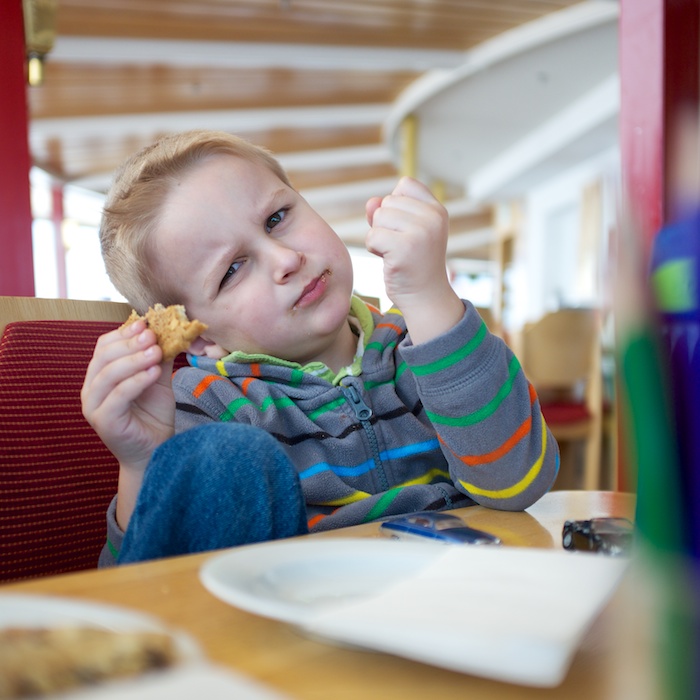 After the first full revolution, clouds started to form and come up and over one of the nearby peaks. It was quite mesmerizing, until we realized our view was going to be obscured in the near future. We FaceTimed a few people (on the wifi network "007" of course), while the clear skies lasted, swearing that we too could not process the view before our eyes.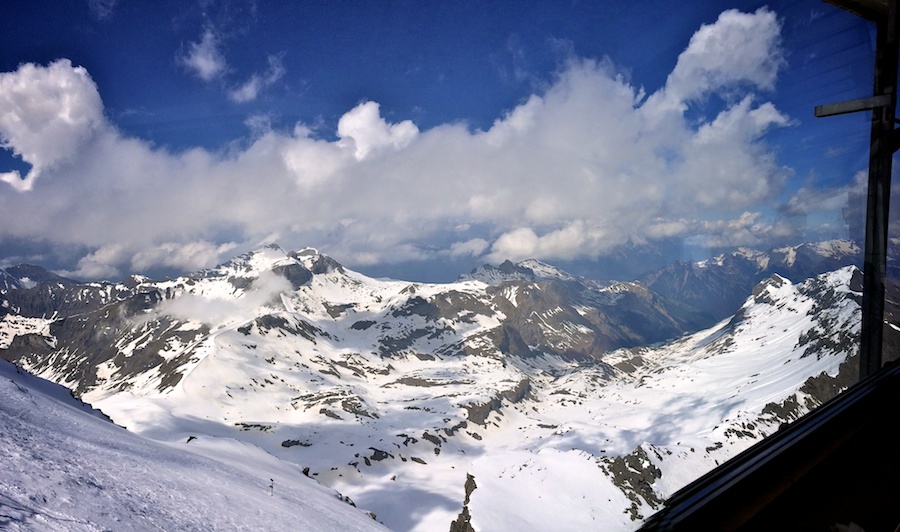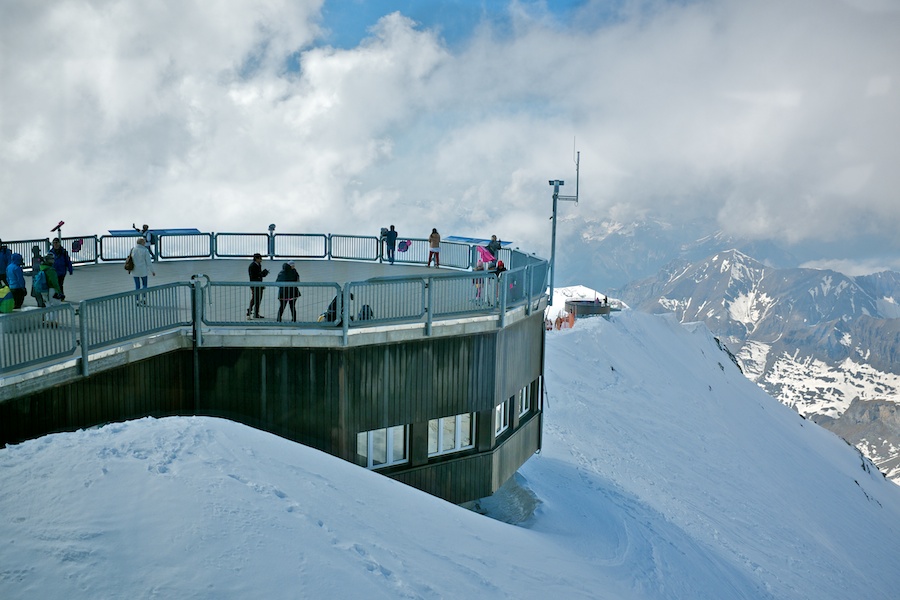 Sigh. Moments like these never last, can never be captured or recreated.
Also worth noting, there was a James Bond "experience" on the second floor, which was basically a small interactive museum. It was really cool actually! You could "fly" a helicopter (full-sized cockpit) in front a screen, "ride" in a bobsled and recreate scenes from In Her Majesty's Service, and check out a bunch of movie memorabilia. They also had a small movie theater that played the 10-15 minutes of the movie set in that very location over and over. The hall to the area was covered in 007 movie posters of all languages. Very neat. Definitely worth checking out if you ever find yourself at the schilthorn piz Gloria.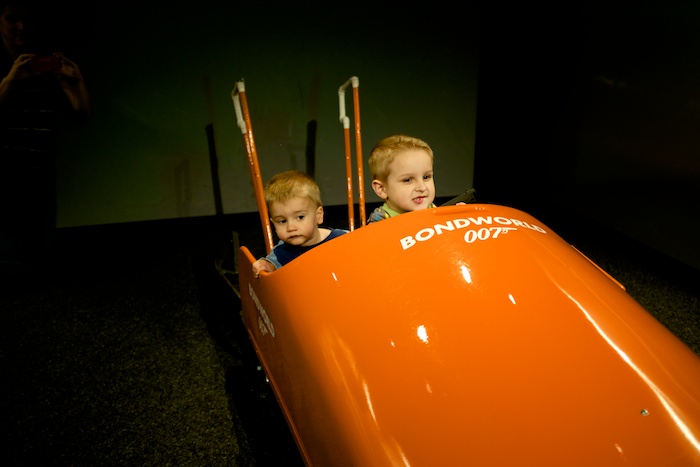 Back down two crowded gondolas to Mürren, gaping at the views as we descended back under the clouds. We found a place in Mürren for dinner. Delicious meat fondue. We were absolutely stuffed.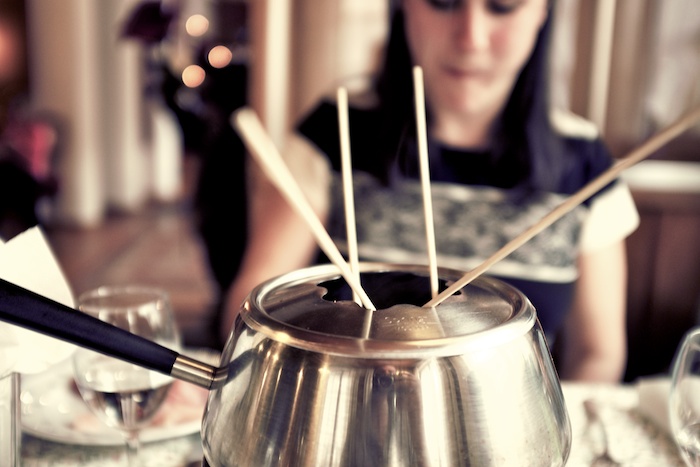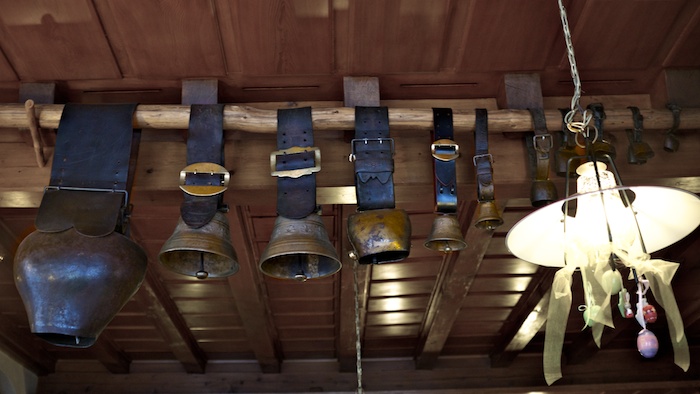 A mountain train and one last gondola later, we made it made it back to Lauterbrunnen, safe and sound. These are the kinds of days you'll never, ever forget. I guess until you get Alzheimer's.