Interlaken
Written by Jen on April 16, 2014
52° F

Today we decided to explore Interlaken, a quick 20 minute train ride away. As the name suggests, it is set right between two lakes. Lake Thun (which we rode past during our initial journey), and Lake Brienz. We probably should have done a bit more research because, working on assumption alone, we figured the town would be small with lake views on both sides. It's actually a few miles wide and the neighboring towns have the waterfront views. Also, we hopped off in the industrial side of town.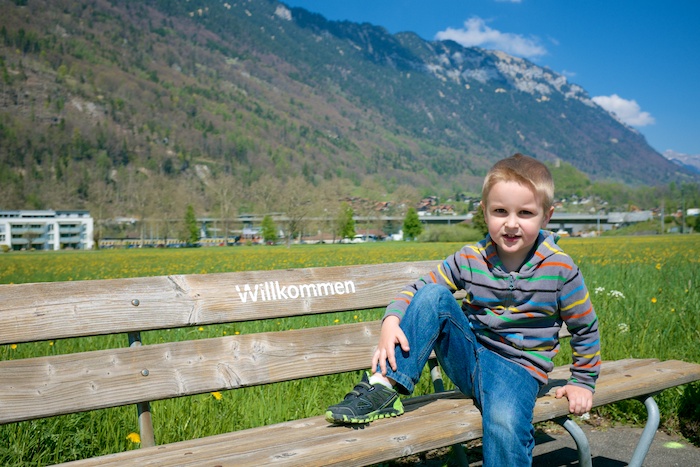 After a large and generally pointless loop of a walk back to the train station, we hopped a bus from Interlaken Ost (east) to Interlaken West which had the charm and pedestrian friendly areas we were looking for. The bus ride was quite nice too, covering more ground than we could on foot and giving us a glimpse of the sweet backside of town. We did some souvenier shopping, stopped at a chocolatier (uh, YUM) and went for a nice walk in search of a sunny spot to sit and enjoy our treats.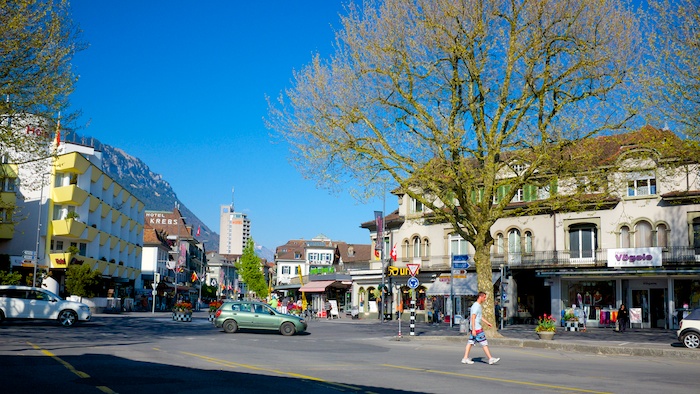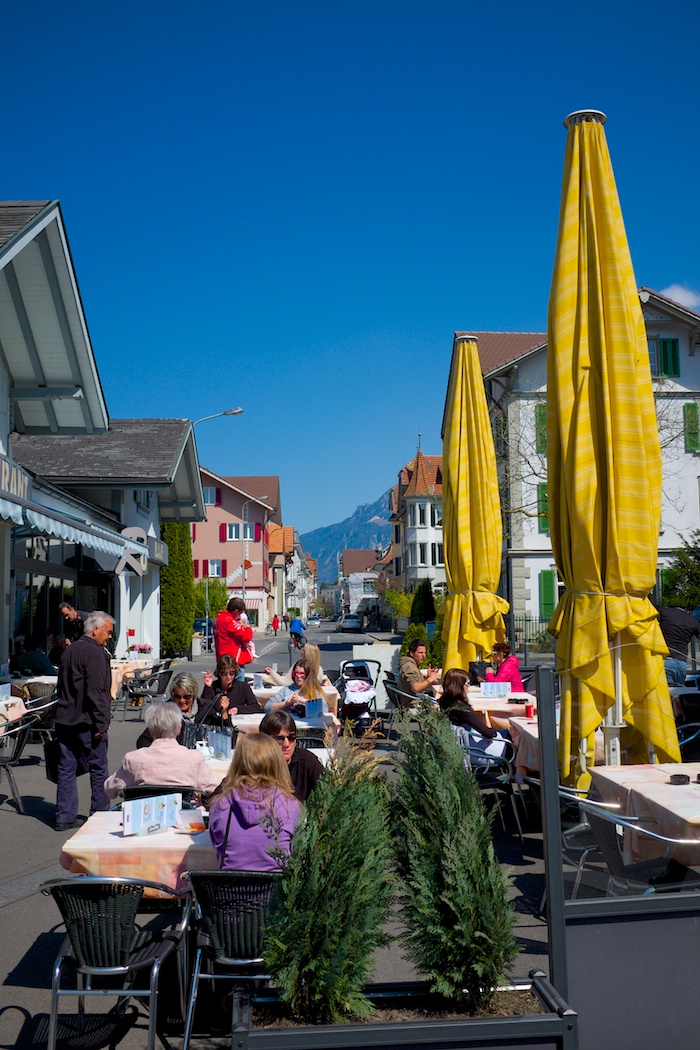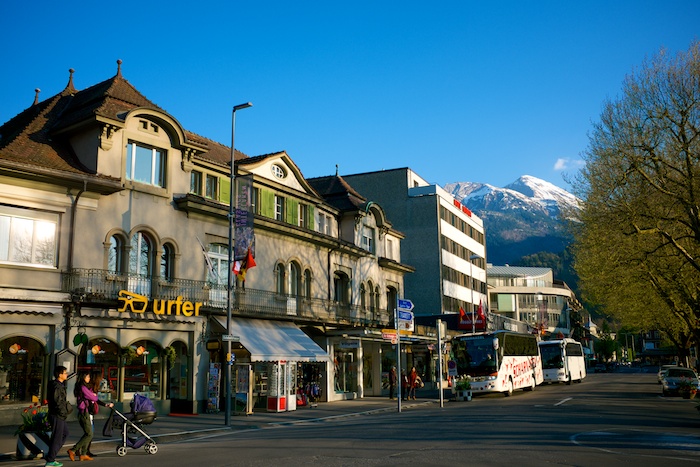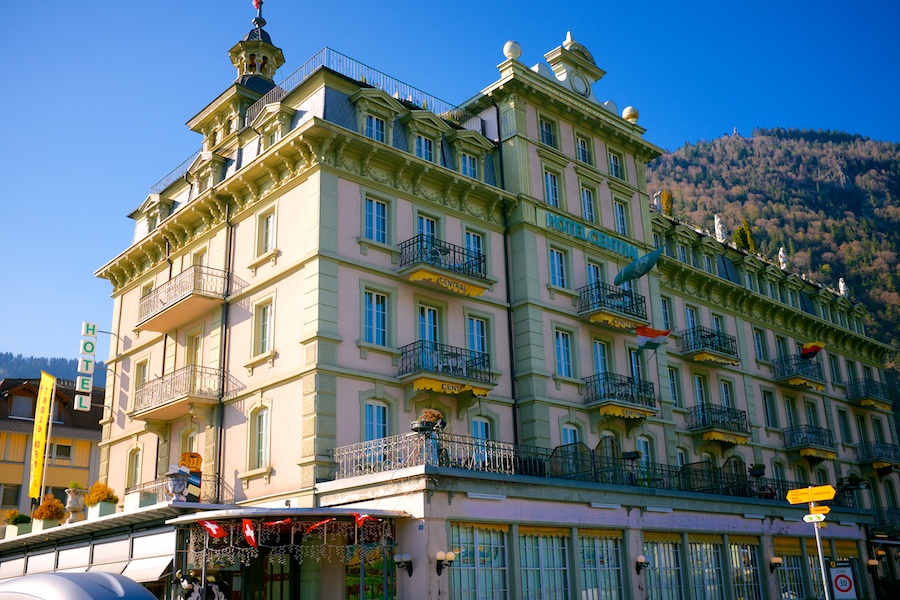 We came upon a large open field surrounded by benches. Perfect! There was a large pebbled path around the perimeter, which kept the boys (dirtily) busy. And as it turns out, the large open field is a popular landing zone for base jumpers and paragliders. We watched a few come in for a landing with the lovely added backdrop of the Grand Hotel Victoria-Interlaken. Evan was quite amused by the paragliders, giddy with anticiptaion as they were descending yelling "they're coming in for a landing!" and cheering when they touched the ground.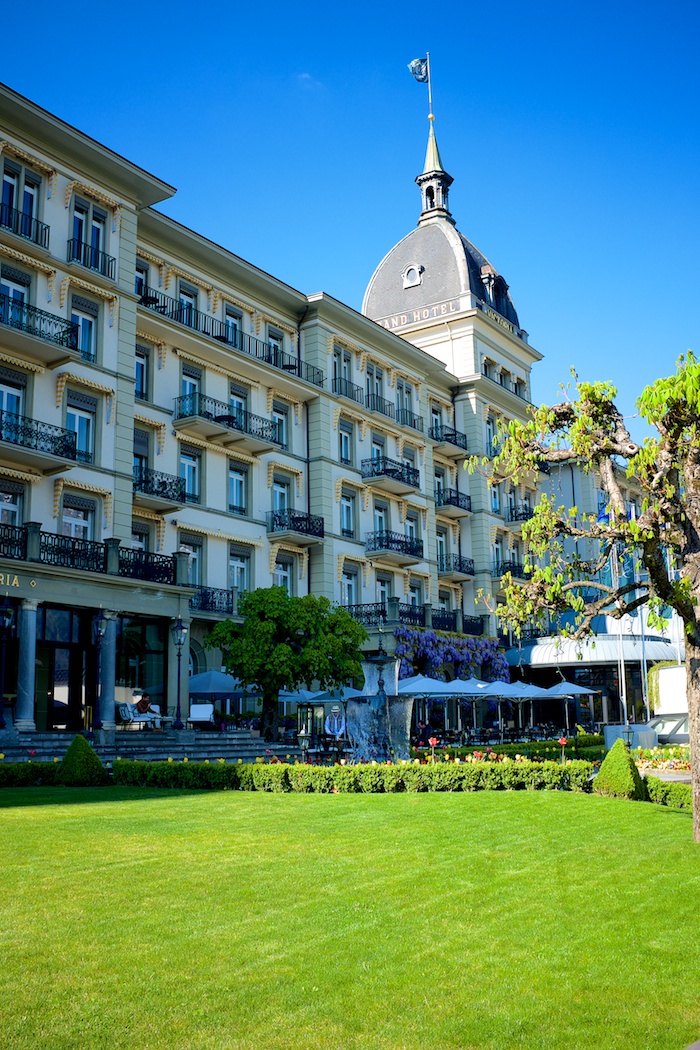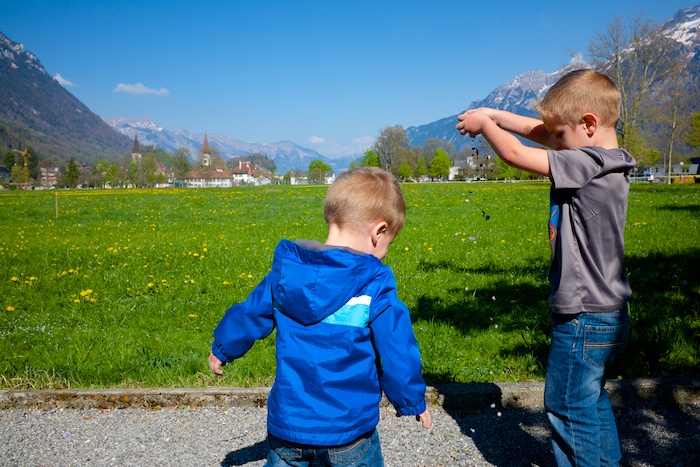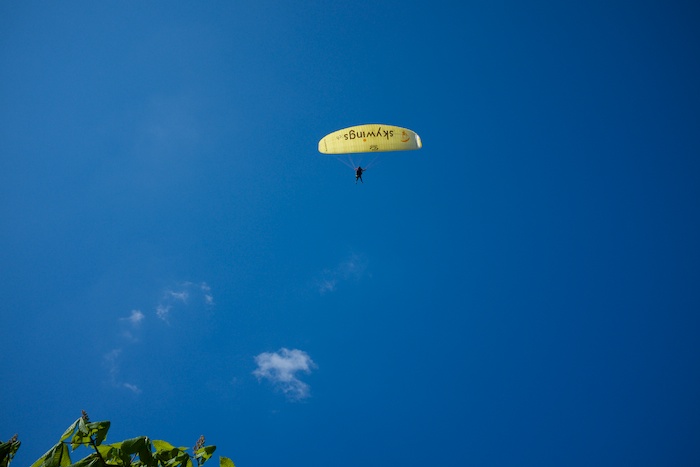 Part of Interlaken is split by two canals, both quite close to each other. Along the canals are what I would imagine are some of the prime real estate lots. The homes were gorgeous, made completely stunning by their setting and backdrop.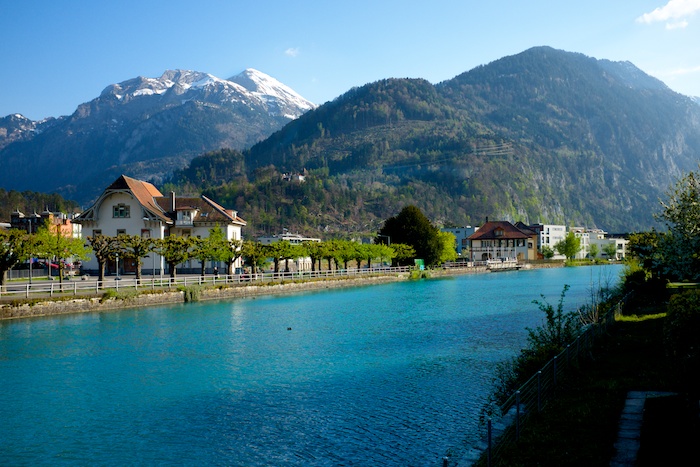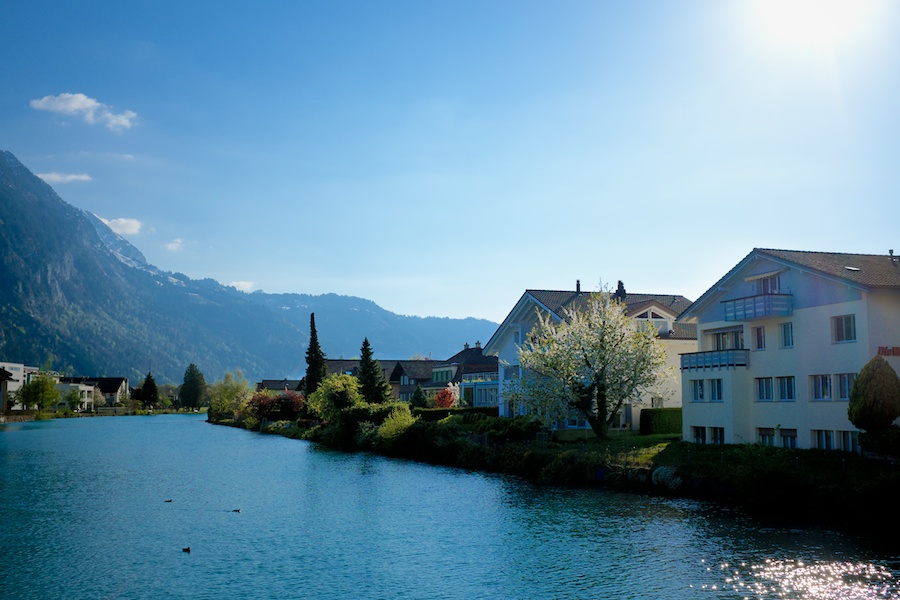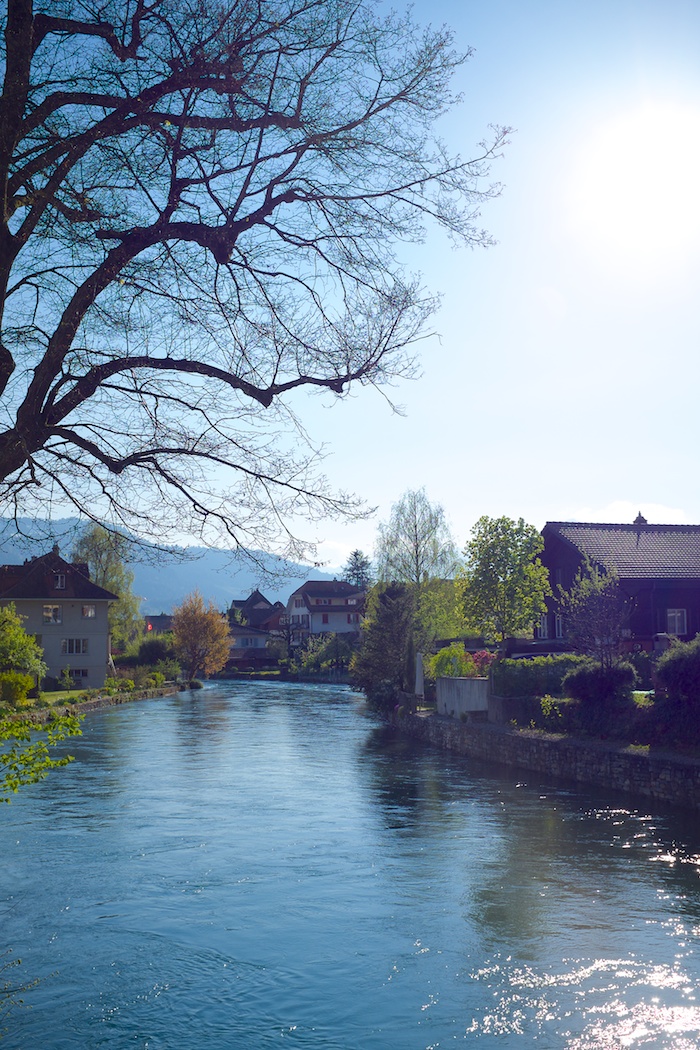 After a nice rest, we were back on our feet in search of the Lake Thun. We couldn't come all the way to Interlaken and not catch a glimpse of that mystical aquamarine water! By foot it was still over a mile away, so we hopped another bus to the neighboring village of Neuhaus. Upon arrival we had a peek at the return schedule, and we realized we had 20 minutes or an hour and 20 minutes. Those were our only two options! The second would have meant a return to town well past grumbling tummies time, so 20 minutes it was, and it was just enough. We strolled down to the water front, snapped some pictures, soaked in the beauty (quickly and efficiently), Evan got to touch the near-freezing water a few times (and give me a few panic attacks as he leaned over the edge), and off we were back into town for dinner. Sometimes quick and easy is just fine!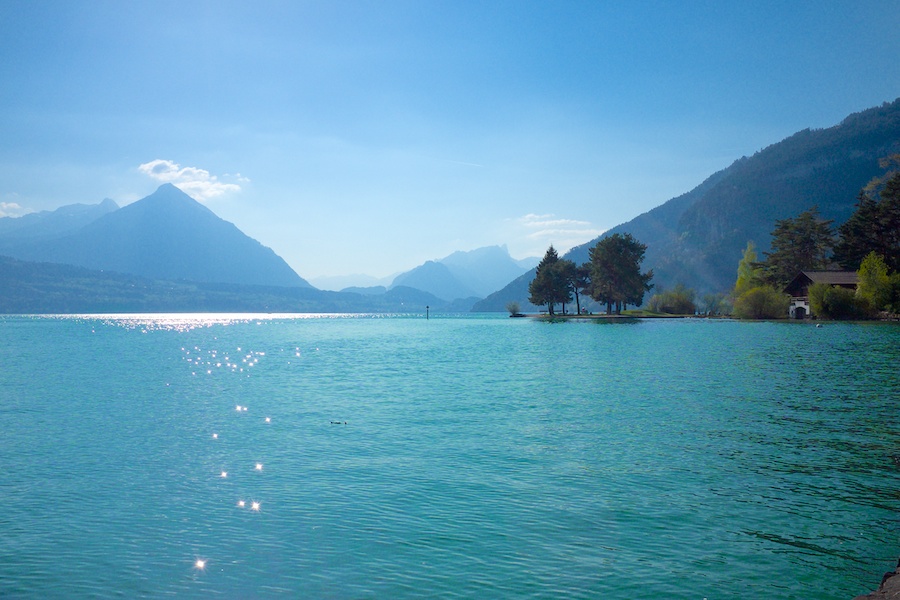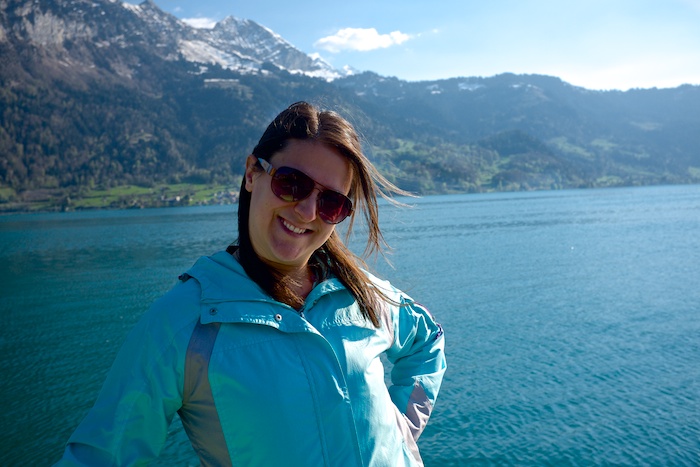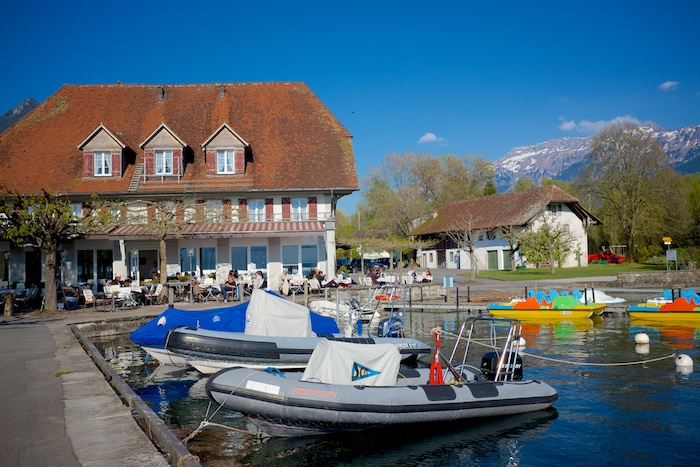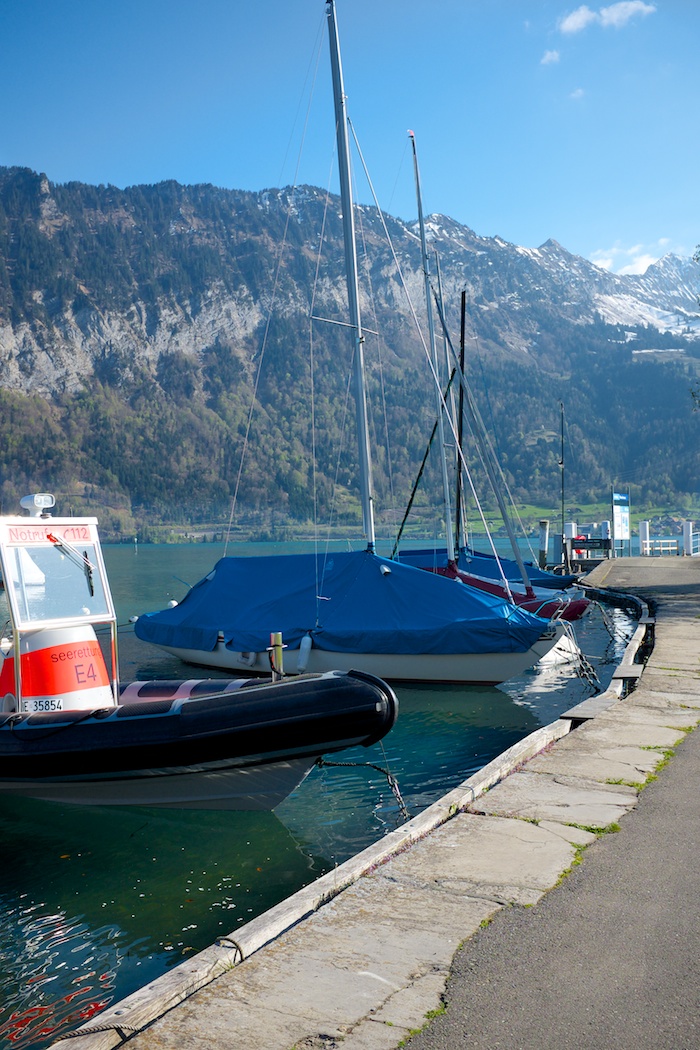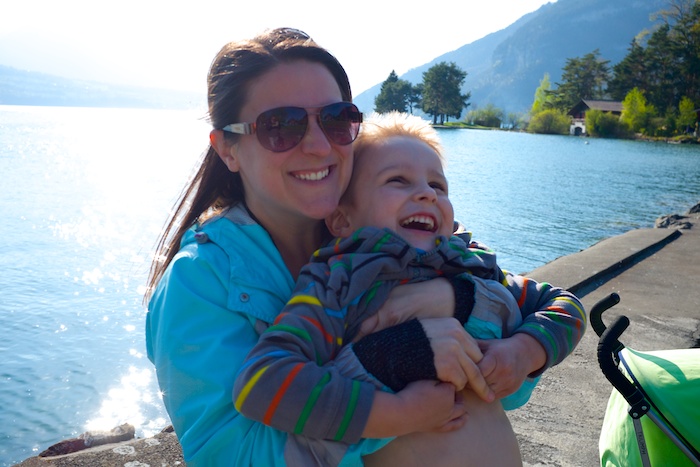 Restaurant Bebbis was well reviewed and right next to the bus/train station. Proximity bonus! The energy in that restaurant was unlike any I've seen yet in Switzerland. As Jack mentioned in a previous post, things are very calm, serene and quiet here. It's been a challenge with crazy boys but we've made it work and appreciate the change of pace. At Restaurant Bebbis, they clearly catered to tourists with great enthusiasm! From fondue lessons and ringing large cowbells, to offering attempts at the Swiss Alphorn and a full demonstration afterwards, it was clear we at least picked the most entertaining place! The food was great too. We checked some more traditional Swiss dishes off our must-try list: cheese fondue and bratwurst with swiss hash browns and brown gravy. YUM!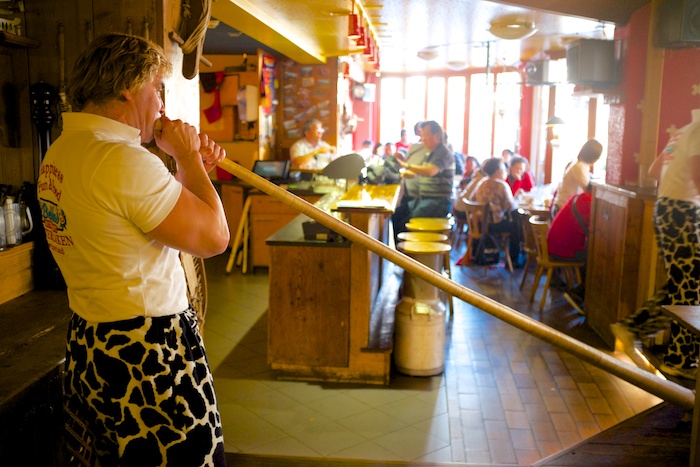 The train ride back into Lauterbrunnen was lovely as the sunset cast a warm pink glow on the tips of all the snow capped mountains as far as the eye could see.