Lucca and Pisa
Written by Jen on April 23, 2014
70° F

We awoke to another beautiful morning on the farm. The first of two kid-specific activities that sold me on our place was this morning: Farm-4-Fun. Evan has never been very keen on furry and feathered friends, but Liam has always gotten a kick out of them. We dove in hoping that at least one of the boys would have fun, and by the gift of foresight… exactly one of them did!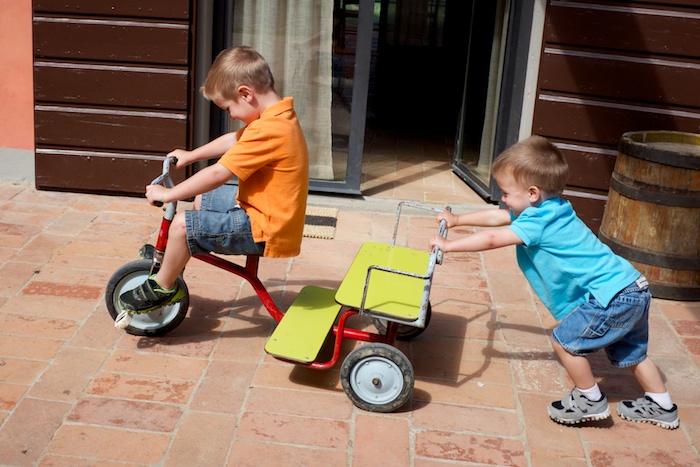 First we visited momma and her baby chicks, the kids taking turns holding them. Evan wouldn't hold them, so I cupped one and Liam petted it gently in my hand. Rewarded by a small victory, he summoned his usual boldness and grabbed it around the neck to pick it up. Our startled reaction caused him to recoil in response but all was well. The baby chick still had it's head, and we shared in some nervous laughter!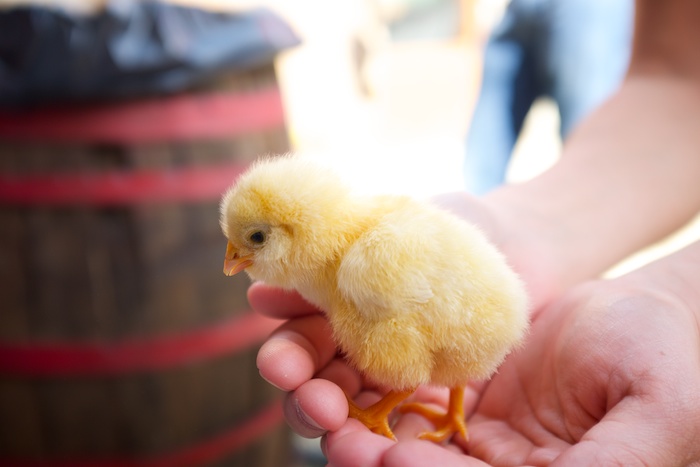 We moved on to the donkeys, the boys watching as the other kids fed them leftover, stale bread from the on-site restaurant (how convenient!). Liam was warming up to the animals, getting cautiously excited, while Evan glowered internally, maintaining his outward calm.
At the goat pen Liam stepped it up a notch and began feeding them on his own! We were so proud! Piece after piece, he was delighted as the goats snatched the bread out of his hand and gobbled it up. His bravery swelling, he started breaking off smaller and smaller pieces of bread until the goats had to worm their tongues in between his fingers to retrieve the morsels, resulting in Liam giggling and clapping as if to congratulate their efforts!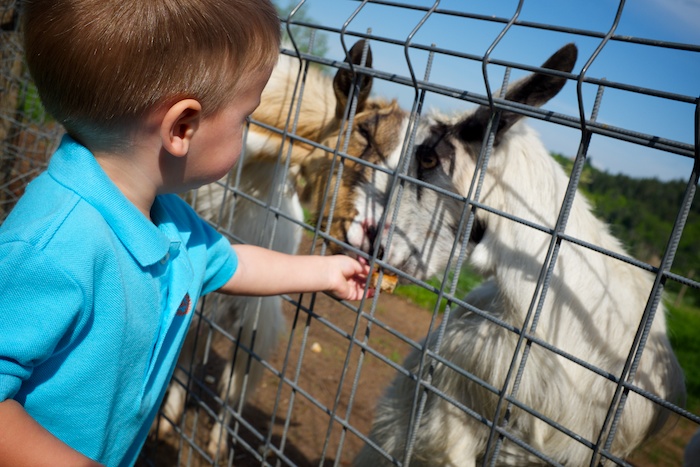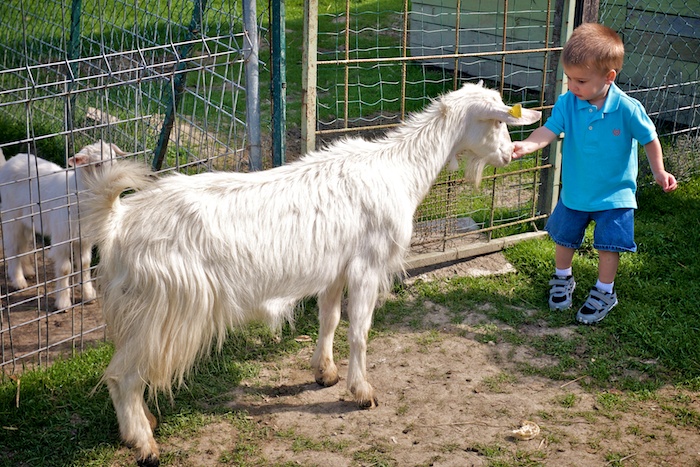 Then the chickens and ducks were let loose. Liam tried to feed them, but alas they can't fit a whole piece of bread in their beaks, no matter how hard he tried to mash it in there.
Although Evan didn't participate in the slightest, he actually behaved so much better than we could have hoped for! For the kid who has always run away from animals (even the tiniest and friendliest), he was as calm as could be in a sea of fowl and goats on the loose.
The "moos" (cows) were next, and I can't really blame Liam for losing his boldness at this point. Their heads were as big as him and their long slimy tongues reached out quite far for the bread! So we retreated to the little pizza lunch they were hosting for after the farm tour.
Lucca
We decided to explore Lucca and if we managed the time well enough, the nearby Pisa for the remainder of the day. The journey was roughly an hour and a half of leisurely, windy roads through the rolling hills. After a while the terrain flattened out, and before long we were graced with the impressive Garfagnana mountains, some even capped with snow, to the northwest.
We finally arrived in Lucca in the early afternoon. We meandered inside the walled city looking for interesting corners, grottos, or side streets (we found none) before deciding on a cute bistro featuring covered outdoor seating in a small piazza. It was just in time too, as unexpected sun-showers arrived to tease our unpreparedness!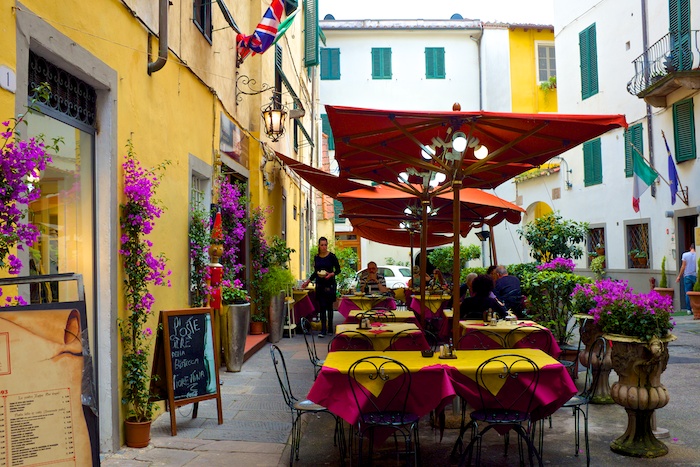 We amused ourselves as the rain tired itself out with a little anecdotal fact. In the middle of the piazza (an inconsequential one, I should add), was a statue of a man sitting in a chair. From where we sat, we could read the plaque that described the man as a recent leader of the local rotary club in the 90's. Not exactly a high-profile piece of artwork to write home about. To our growing amusement, tourists persisted at stopping by the piazza to take pictures of it and themselves in front of it. It's funny people react in the way they feel they're supposed react. In this case, they assumed any statue was important, and certainly they could and should boast about their selfie with it. Good times.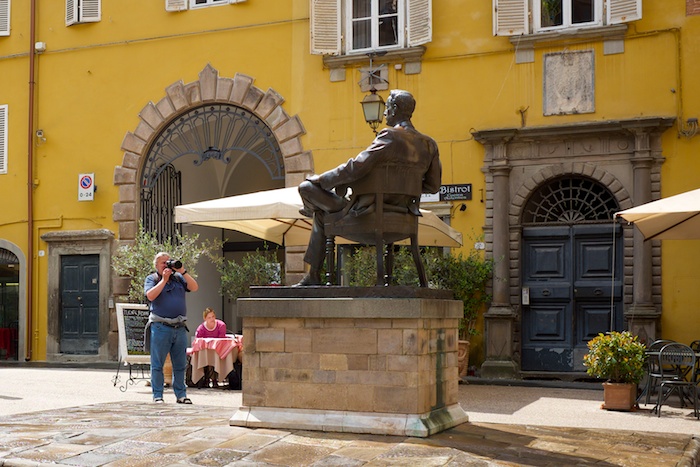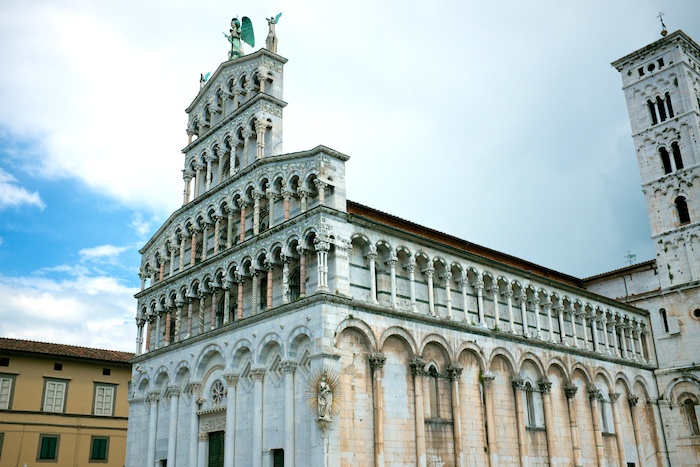 After lunch we resumed our wandering of the city streets, trying to find some defining spot that made Lucca special. As we meandered, and turned corner after corner I grew disappointed that the Tuscan city, one so many blogs had raved about as being so kid friendly and sweet, was turning out to just seem dirty and run down. After letting the kids loose on a graffiti-ridden playground for a spell, we just decided to take "the wall" back to the car.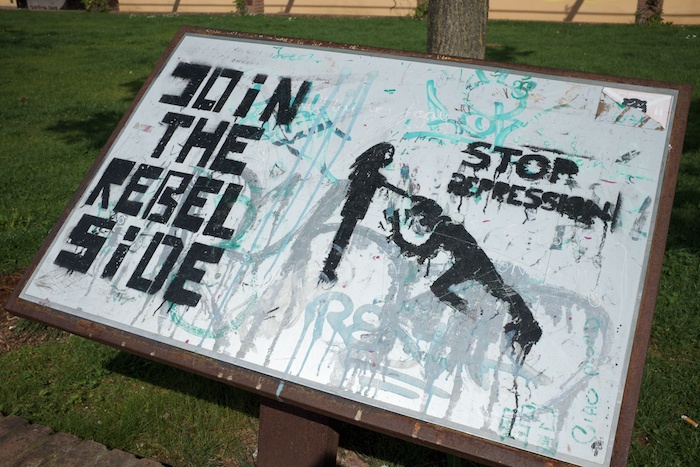 Lucca is an old medieval walled city, with a wall so wide that it actually has a road that can support cars and sidewalks on top! We had seen and read about it, and it was clear that's what Lucca has to offer! The path was lined with tall, shady trees and is frequented by cyclists, runners, and those out for a casual stroll. It was a lovely (although exhausting after all our exploring) walk back to the car via the wall! So that was Lucca.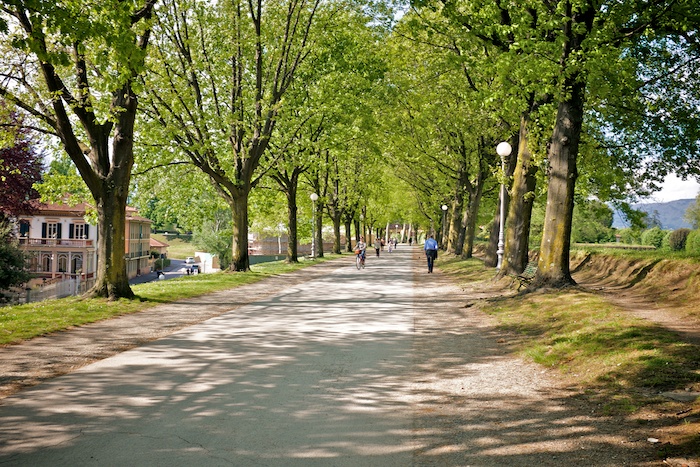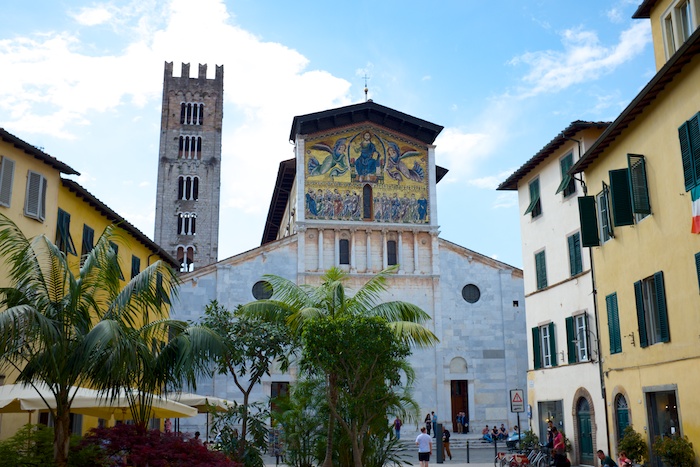 We had escaped Lucca with enough time to visit Pisa to see that iconic leaning tower. Our parking spot was super-convenient, allowing us to pop into the Piazza del Duomo in no time at all.
Pisa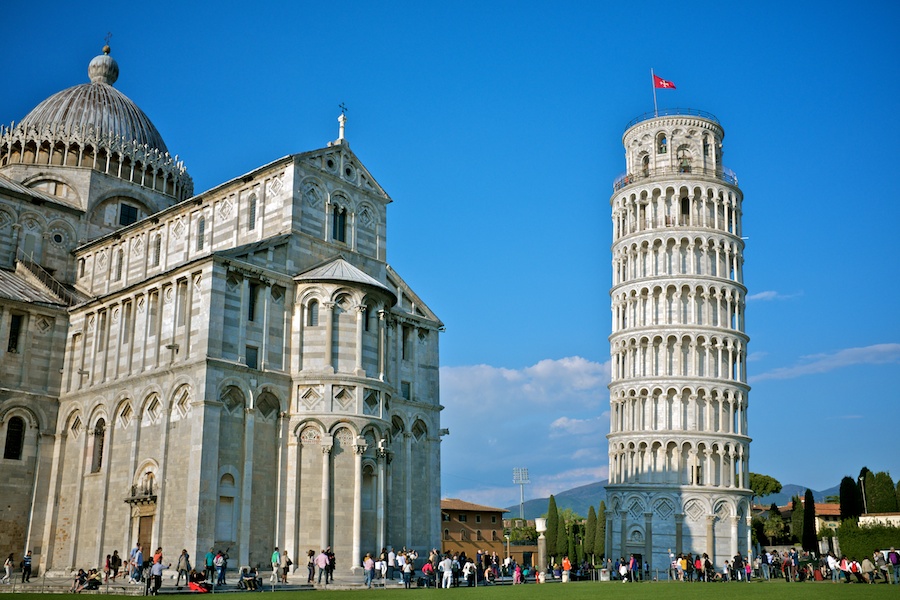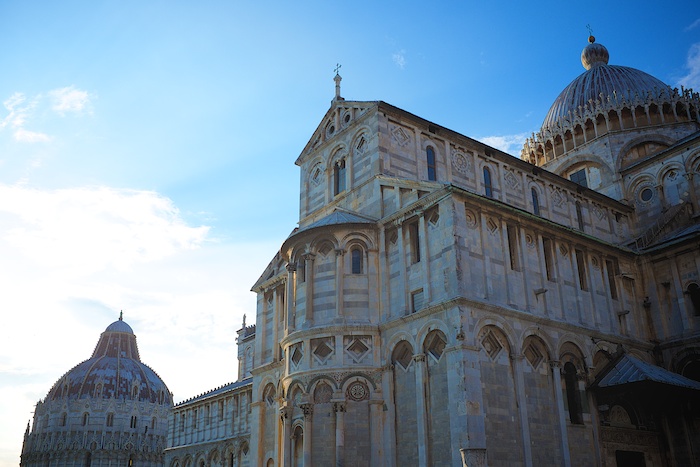 Jack was smitten with the droves of tourists taking pictures of themselves holding up that tower, and couldn't stop himself from taking their picture of them taking their picture, over and over.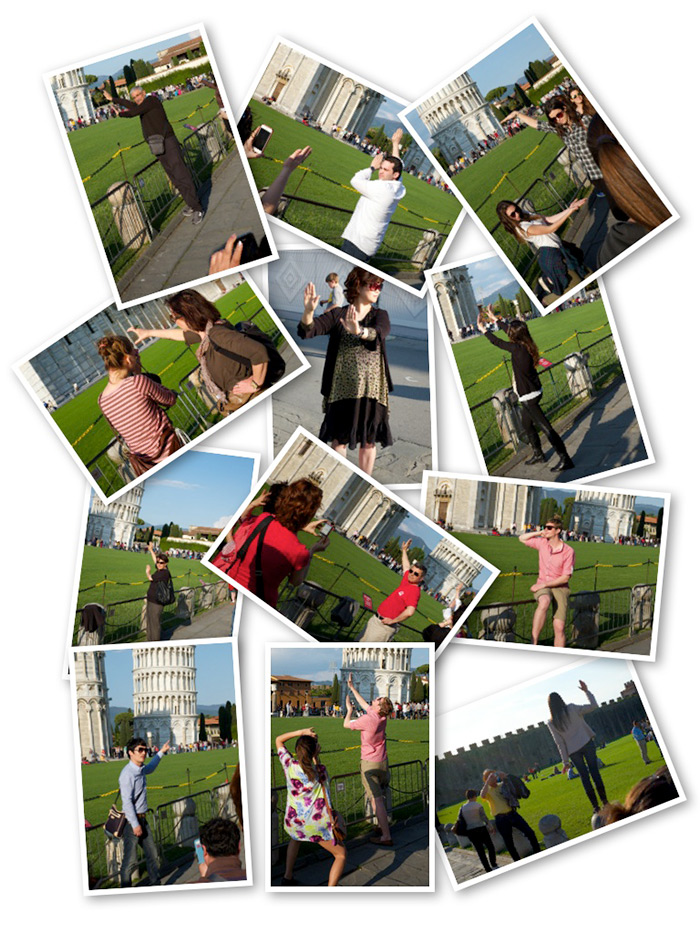 It was really neat to see the iconic buildings, and we were a little surprised at how much taller we had assumed the tower was. Still, it was worth a visit and we enjoyed it.
We stopped for dinner at a highly-rated TripAdvisor restaurant. Wouldn't you know that in the shadow of the leaning tower of Pisa, a pinnacle of tourist traffic, we encountered our first real language barrier?! Everywhere else people spoke enough English (and us just enough Italian) to communicate simple ideas (like menu items, where's the bathroom, can I have the bill, please and thank you, etc), but the staff at this restaurant didn't speak a lick of it! We pointed out, literally, what we wanted on the menu, and yet somehow the boys' hamburger arrived as a fancy pork and cabbage dish on a slate plate, and my entree never arrived. By the time we sorted it out (with the help of Google Translate), it was more amusing than annoying. Or maybe that's just our glass-is-half-full approach to vacation. Either way, we all ate enough and the food that did arrive was quite good.
Heading back out of Pisa, the drive through the city edges somewhat reminded us of Newark, New Jersey, complete with an Ikea next to an airport and numerous overpasses. The smell of cigarettes and garbage (how does it smell so bad from the highway?!) hung in the air and industrial plants were everywhere. No country is perfect from border to border!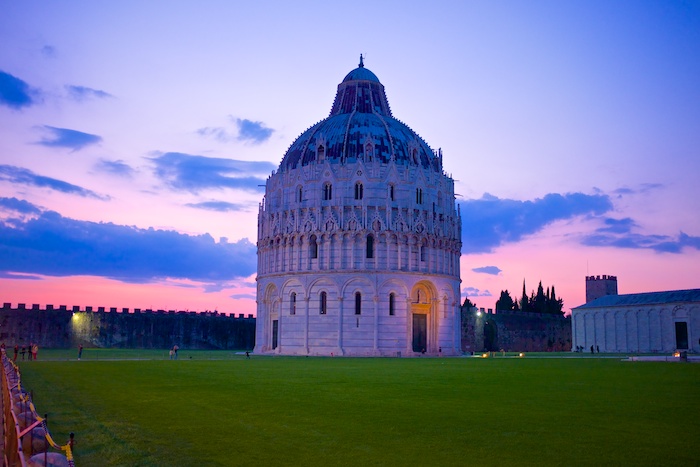 All in all a good day, but Lucca and Pisa themselves wouldn't top the charts as the highlights of our Italian vacation.