Sunny Positano
Written by Jen on April 28, 2014
64° F

After an all-too-early wake up call from the boys, we glanced out the windows and lo and behold…the SUN! We jumped out of bed not wanting to miss precious seconds or the ability to see the real colors of Positano! We gobbled down a messy breakfast, scrambled a few belongings together, jammed Liam in the carrier backpack, and made the 318 stair journey down to the bus stop. Bus tickets are cheaper (1.20 € vs 1.60 €) when purchased at a tabacchini (essentially a convenience store), so we snagged a pair and we were shortly on our way down the one-way loop of Positano as the bus navigated impossible corners and tight squeezes making us look at each other with wide eyes and nervously laugh!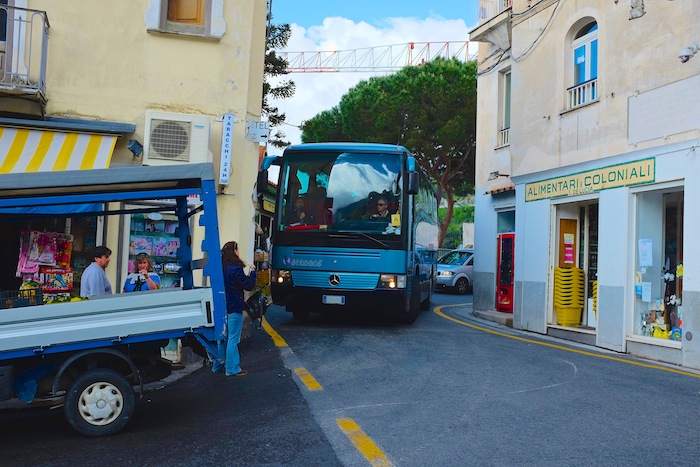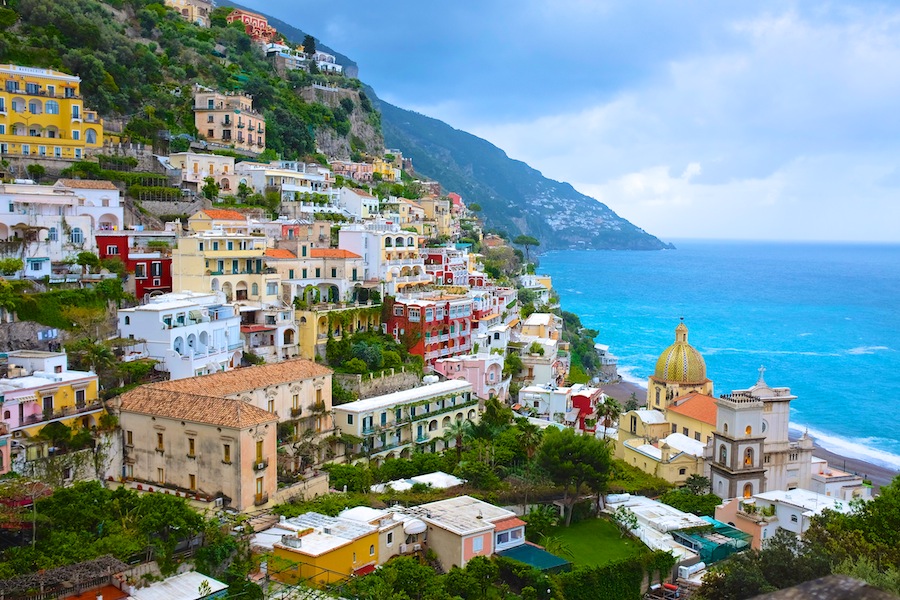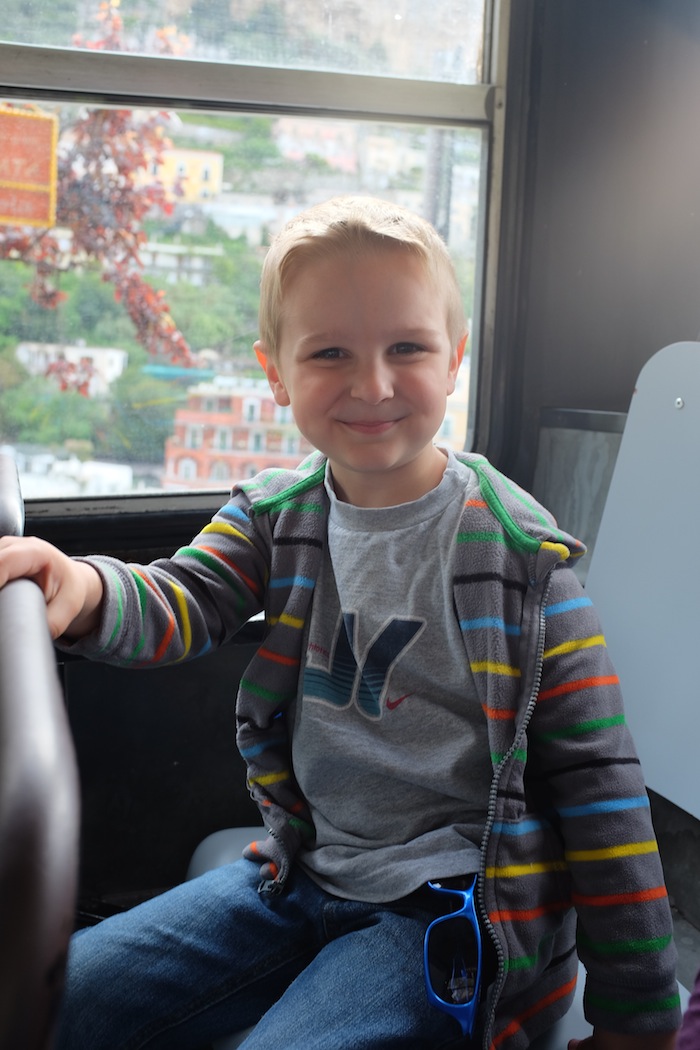 We disembarked in a cute pedestrian-only shopping district where we could let the boys loose on foot and begin the exploring. Positano is notorious for it's fancy, fashionable shops and high prices (which we confirmed), but it had some reasonable souvenir shops as well! We made mental notes of what to buy along the way so we wouldn't have to haul it around all day. Winding paths and nearly hidden staircases revealed shops, restaurants, bakeries, and eventually delivered us to the beach where we found the iconic view of Positano. It seemed shorter than we expected based on photos and video online (and how high we were staying), especially, considering the amount of effort it took to come all the way down! As it turns out, when you're at the very bottom, you can only see up to where the first ridge levels out before climbing back up again. It's shaped much like an inverted cone or funnel. From further back or higher up you can see that the clusters do continue on quite a bit up the hill, and that indeed our villa is at the very top! That figures!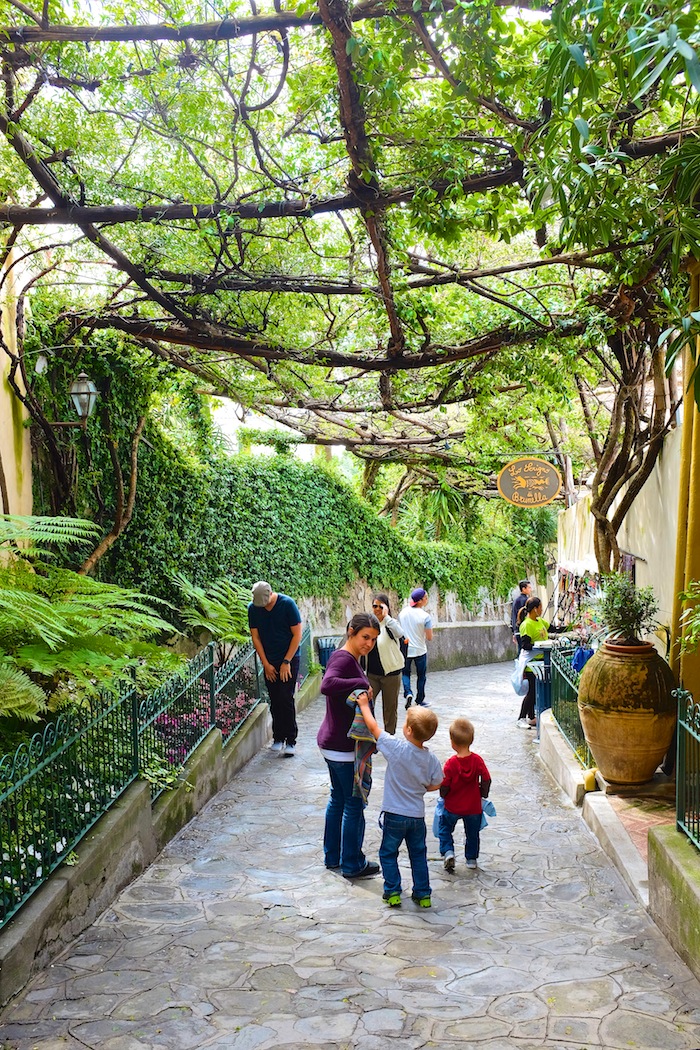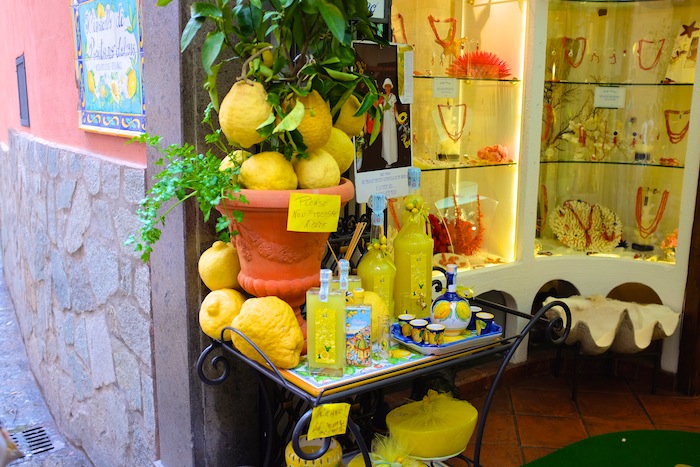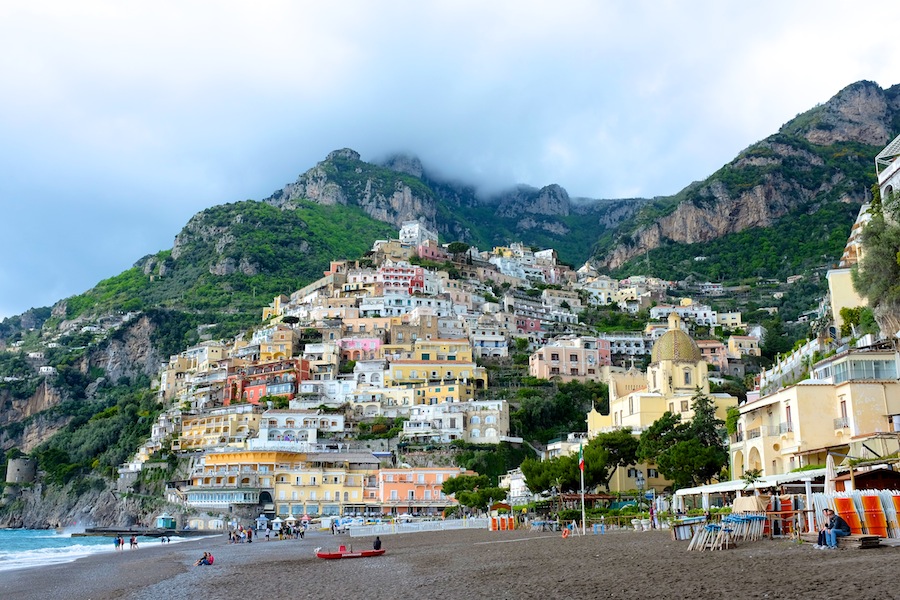 After what seemed like a half day's worth of exploring, we glanced at our clocks to confirm it was time for lunch, and alas, it was only 10:30! Such an earlier start than usual! It must have been the excitement of the sun.
We inhaled the beach and all its glory for a while longer before hiking back up some of the stairs and hills to a bakery we had passed earlier. There's nothing quite like second breakfast. We let our eyes and our bellies pick out the treats, and we ended up with a sugar-coated donut-type-thing for the boys and something I never caught the Italian name for (but back home they're called lobster tails), but they were similar to sfogliatella. I hereby name them Little Pieces 'O Heaven. A dozen or so layers of phyllo dough wrapped into a croissant shape, which gave a satisfying and flaky crunch, filled with a light and fluffy, not-too-sweet cream. Jack and I split one. And then another. We should have known to just each get our own!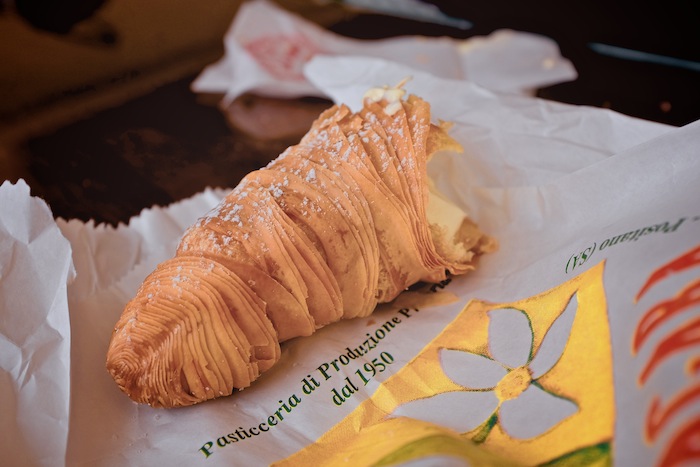 We headed back downhill, working out a new route using different paths and staircases this time, which of course still led to the beach! Still nice and full from our bakery indulgence, we planted ourselves on a bench, watching the sights and people, smelling the smells, and keeping tabs on a few clouds that started to roll in. A painter began setting up his easel, and soon charcoal sketching the outline of his soon-to-be masterpiece.
Our boys noticed a remote control car zipping around the little plaza area and just had to go investigate. The young boy and proud owner of the car was very gracious and shared his new toy, and we watched and smiled as they all took turns controlling and chasing the little Polizia (police car) around. His parents strolled over and sat across from us, and to our delight spoke English! And even more to our delight, were from Ireland! We struck up a conversation, chatting about our travels while the boys ran around together. After an hour or so lunch became immanent, and decided to all grab a bite together!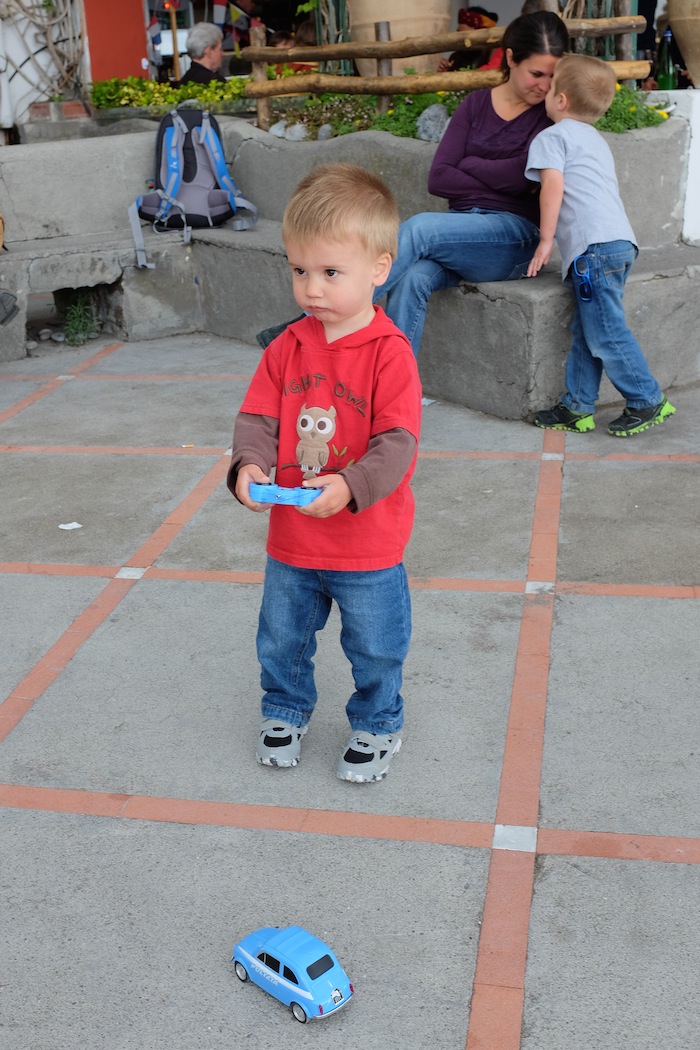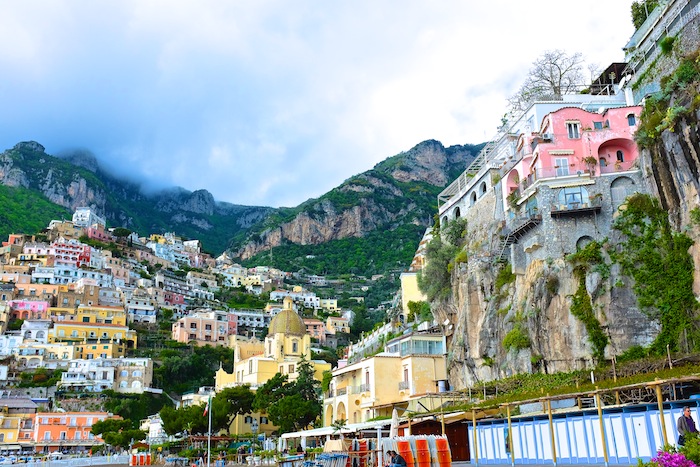 We strolled along the beach, evaluating the various restaurants on sight alone (we found TripAdviser reviews to be completely useless this trip), just as it started sprinkling. We settled on a nice place with outdoor-but-sheltered and somewhat-heated seating. We dined on delicious specialty pizzas and chatted with our new friends Jon and Luisa, while Evan and his new friend Sebastian talked and giggled about boy stuff (probably potty-related humor!). Liam dozed on my lap. The rain continued with various degrees of intensity but seemed to be sticking around for the foreseeable future. After lunch, we changed the scenery as a group and headed a few doors down for dessert. After we finished our tiramisu and gelatos, we noticed the painter from earlier had also moved "indoors" and was sketching the various patrons around the restaurant. At one point he fixated on our table! Who knows, maybe we'll be in an Italian art gallery someday!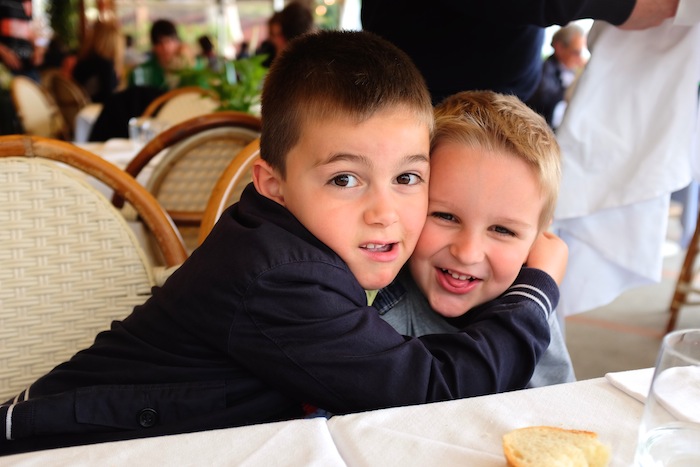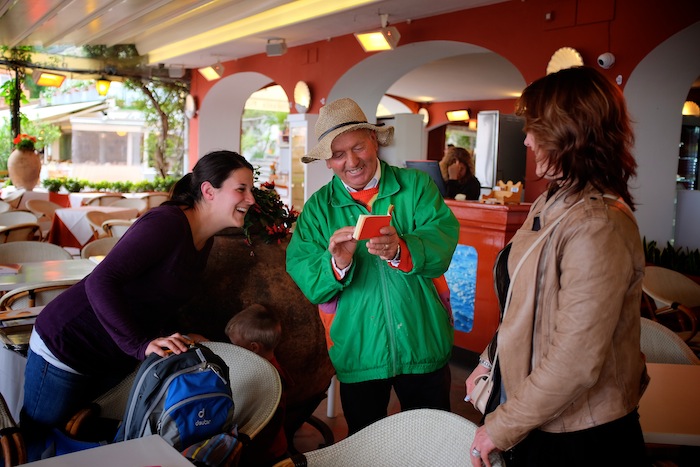 The folks at the restaurant seemed to realize that we weren't going anywhere anytime soon, but didn't seem to mind, bringing out a few snacks out for us. The local green olives were amazing. I've never been much of a fan before, but I am now! Though I'm sure they're much different than the ones back home.
The rain eventually cleared and we all ventured out for a walk, somewhat unsure of what else to do. It was approaching dinnertime but we had been eating all afternoon and none of us were all that hungry. We decided on working our way back up the hill, this time taking the windier, but less steep road instead of stairs, hoping to work up an appetite.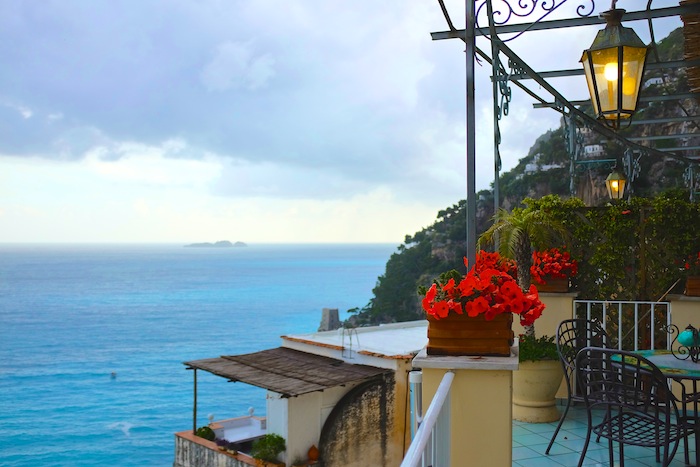 It began approaching 7pm and Jack and I still weren't hungry, while Liam was growing quite cranky and tired. We made the reluctant decision to bail on dinner. Our new friends graciously gave us a ride back up to our place in their rental car. Jon took the long way and wound along the snake-like coastal road, giving us a fantastic vantage point of the whole city of Positano in one direction, crazy craggy crevasses and onwards to Praiano in the other. As he dropped us off, we exchanged contact info quickly and he invited us to explore Praiano with them the next day. We delightfully accepted! New friends!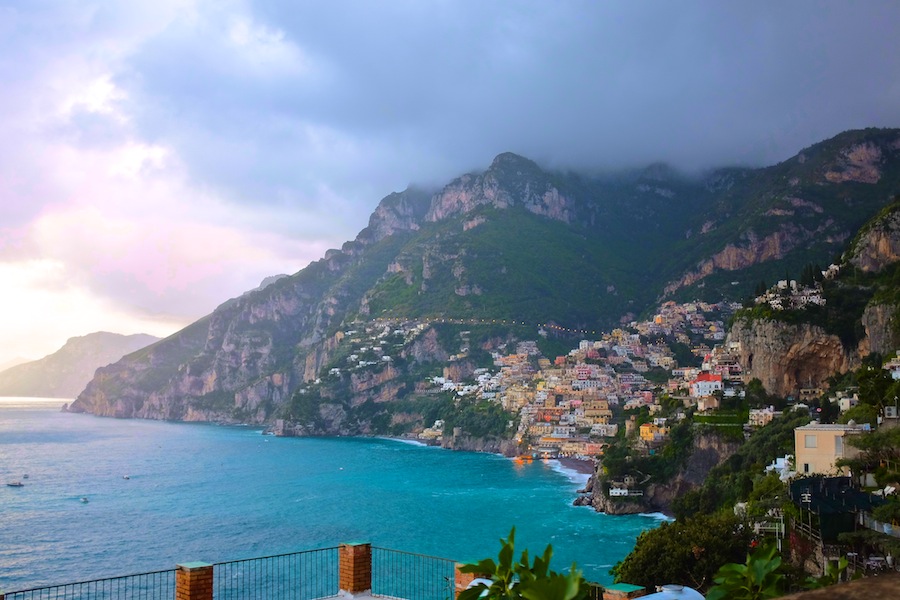 We're looking forward to seeing what Praiano has to offer tomorrow. What an unexpected treat!